Nov 7 & 8 YCRS Training on Sat, Practice on Sun
Do you ever feel like you could use Professional Help and Training? Now is your chance – learn from the best on Sat Nov 7th with YCRS and then practice what you've learned on Sun Nov 8th with XCEL!! Don't miss this golden opportunity for a full track day weekend. Visit the YCRS website and register for CHAMPSTREET or CHAMPDAY. Then register with XCEL using code XCELCHAMPDAY to get your Sunday Track Day for only $99.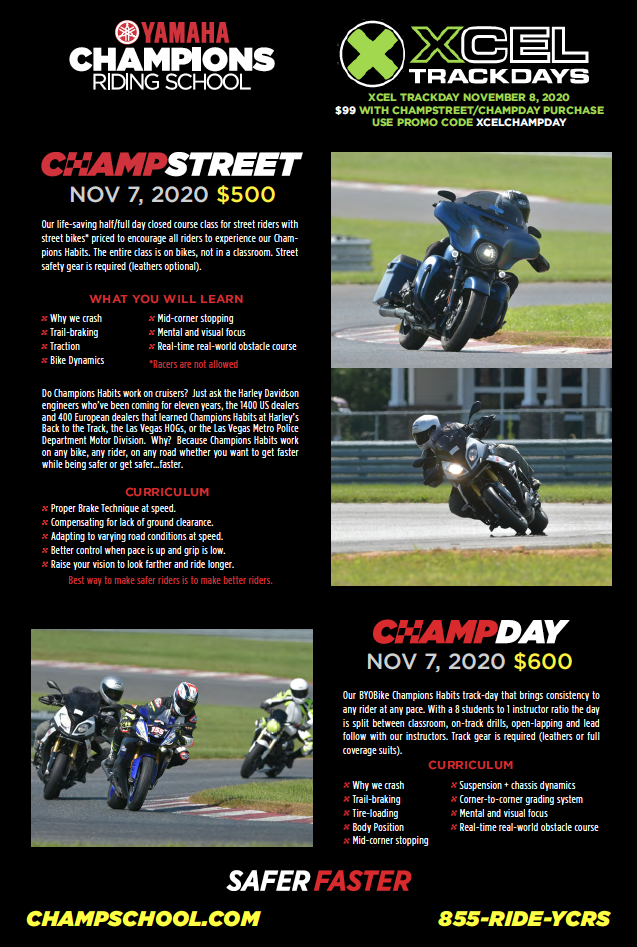 FULL DAY or Private Open Session Events
3-group Safety oriented Format or Limited Open Session events
Safety is our #1 Priority and why you ride with XCEL
YCRS Trained Coaching Staff available to ALL Riders – Learn from the Best!
XCEL Friendly Staff and Format. We are here for your safety and riding skills training!
*Check the Event Registrations for details. See the Track Day Guide Section For Event Specifics
Track Day Event Information
Come ride with Arizona's Premier Track Day organization and remember there is never a Gate Fee for Riders or Spectators so come out and bring your family and friends. Lunch is provided by XCEL Trackdays or one of our very valued sponsors!
Don't forget to register for the XCEL email newsletter to keep up to date on important information about track day schedule, event planning, sponsors, and promotions.
Venue & Schedule
All events are held at the purpose-built and safest Motorcycle Track in Arizona: Arizona Motorsports Park.
01/26 Arizona Motorsports Park CW – Track Hours 9am – 5pm
03/15 Arizona Motorsports Park CCW – Track Hours 8am – 5pm
04/11 Arizona Motorsports Park CW – Track Hours 8am – 4pm – Cancelled
05/03 Arizona Motorsports Park CCW or CW – Track Hours 8am – 2pm – OPEN SESSION EVENT
— SUMMER BREAK —
09/27 Arizona Motorsports Park CCW
10/18 Arizona Motorsports Park CW
11/08 Arizona Motorsports Park CCW
12/06 Arizona Motorsports Park CW – OPEN SESSION EVENT
Format
We run a Standard 3-group, 20 minute session format for Safety and Consistency.
Professionally trained YCRS coaches are available for ALL participants in ALL groups and is FREE to ALL paid XCEL Riders.
Safety First! A no-exception policy for your safety.
Limited Group Size, Structured and Controlled Event.
Times and Schedule
Event Specific – See event registration details
Participation Requirements
To participate in track day events at Arizona Motorsports Park your motorcycle must not exceed 96dB. We NO LONGER hold Sound Certification events but are qualifying bikes based on type and exhaust configurations. Email us at [email protected] and see if your bike qualifies. See the AMP Sound Certification page for more information.
You must attend the Riders Meeting. If you show up late (half day riders), you will be required to review the Riders Meeting Briefing before going on the track.